The cosmos seemed to have taken a distinct turn against social networking the past week. Wall Street Journal reported that Twitter doesn't work according to small business owners. Pew Research Center revealed that more and more Facebook users are taking a break from that website. And a local bar and restaurant had just started to promote their Digital Detox event that will outlaw any contact with one's mobile device for the duration of the evening On the other end of the spectrum, we have Actor's Theater of Louisville and their second The Balcony event where social networking would not only be encouraged, it would be catered to. The confirmation of my tickets came with an attachment that listed their accounts on both Facebook and Twitter as...
read more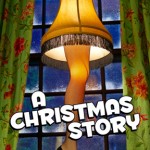 The seats were full Tuesday evening as Louisville locals strolled in to view the Actors Theatre's third annual production of A Christmas Story. This popular motion picture classic traditionally watched in homes to summon Christmastime was brought to life before our very eyes, thanks to Philip Grecian's adaptation. The set design was one of the best I have seen at Actors, with Act 1 resulting in a two-tiered set and a dramatic change in Act 2 for the mall scene. A backdrop of blue-favored-snow-laden houses paired with a techno-color Christmas tree complimented the golden light of the famous leg lamp in front of the window. The set alone could easily transport us to Hohman, Indiana, circa 1940. There were some notable differences with Grecian's...
read more
By Dustin Meyer Fall is a time of cool weather festivities and long standing traditions, be it reaping the harvest, Halloween or seeing Dracula at Actor's Theater. This year's production (adapted and directed by William McNulty and based on Bram Stoker's novel of the same name) is phenomenally entertaining. If it's gore you're after, Dracula holds the key to your bloody little heart. The tale revolves around a character similar (albeit not referenced) to Vlad the Impaler, Prince of Wallachia and Dracula, son of the Dragon who has lived hundreds of years as a vampire, feeding his immortality on the innocent blood of the unsuspecting. Dracula has developed a mysterious interest in Jonathan's fiancé, Lucy, and has lured her to his lair. With the...
read more
What does a southern dialect, a dead cat, and transcendentalistic undertones have in common with one another? They are woven together within Mark Twain's famous novel: The Adventures of Tom Sawyer. Playwright Laura Eason and Director Jeremy B. Cohen come together as a dynamic twosome to display this tale to stages all over the country; including New York, Philadelphia, Denver, and now here in Louisville. Louisville's Actor's Theatre continues its stalwart season with a well-accomplished cast with backgrounds on Broadway, film, and television. Tim McKiernan rightfully exhibits the free-going personality of Tom Sawyer, engaging the audience in laughter with his dialogue with Huckleberry Finn (Robbie Tann). Onlookers even gasped when the two...
read more
The air is cool and crisp, a nice invitation considering the 102 degree weather outside. You will be seated in seat number 10, the friendly usher states with a broad smile. I shuffle down the 2nd Isle in the balcony of the Pamela Brown Theatre, one of 3 theatres located within the Actors Theatre estate. Yes, I am 20 minutes early to see the 48th season's first performance of Sense and Sensibility. However, I do not mind because it is cool, quiet, and I am sipping on the sweet tartness of the celebrity cocktail of the evening, The Dashwood . In this witty comedy of manners, two sisters who are alike only in their pursuit of romance find themselves without fortune, and facing difficult marriage prospects. Will Elinor's common sense or...
read more