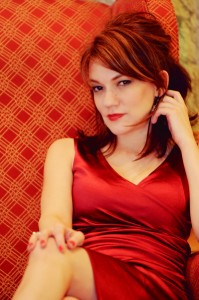 Laura Wallace began extolling the virtues of her adopted cityto out-of-towners while working at Old Louisville's famous Rudyard Kipling over 20 years ago, and started to refine the skills that define a top notch concierge in the course of running Red Vinyl Productions, the music and events-promotion company she founded in 2005.
From securing quality lodging for her artists and performers, to selecting the venue and working with publicty, security, sound and lighting personnel in conjunction with these events, to keeping everyone better than well fed and occupying their free time with interesting and unique things that less in-the-know locals, let alone the casual passer-through, would ordinarily miss.
Her talent for this type of planning and organization eventually led her to the prestigious and historic Brown Hotel. In just over a year she was promoted to Head Concierge, and during her tenure she reorganized the Brown's concierge department, trained the concierge staff, and compiled a weekly list of cultural events for the front-of-house team. Additionally, Laura reached out to establish relations with local business owners, restoring the prestige of the Brown's concierge service. Instilling visitors with her sense of excitement about this city resulted in longer guest stays and more money spent with area merchants.
Laura presided over one of the Brown's most successful Derby weeks ever, and had the opportunity to provide for such notable guests as former President George H. W. Bush, singers Johnny Mathis and Paula Abdul, and the U.S. and European Ryder Cup golf teams.
Now at the helm of City Concierge, Laura shows the City in the best possible light, shining that light into corners others have yet to discover, staying abreast of its newest clubs, galleries, boutiques, bars and restaurants, insisting on trying out each new venue herself before giving it her endorsement.
With over 22 years expertise as an active Louisville sphisticate , she has made connections with local businesses in all walks of life, putting her in a singular position to provide visitors to the City, the new to town, and even long time residents with whatever they may need — the impossible-to-get reservation, clothing on the spur of the moment, an engagement ring after business hours — and provide them with up-to-the-minute guidance on the best, most entertaining and unique experiences that Louisville has to offer.